My bag
×
Delivery
Calculated at checkout
We accept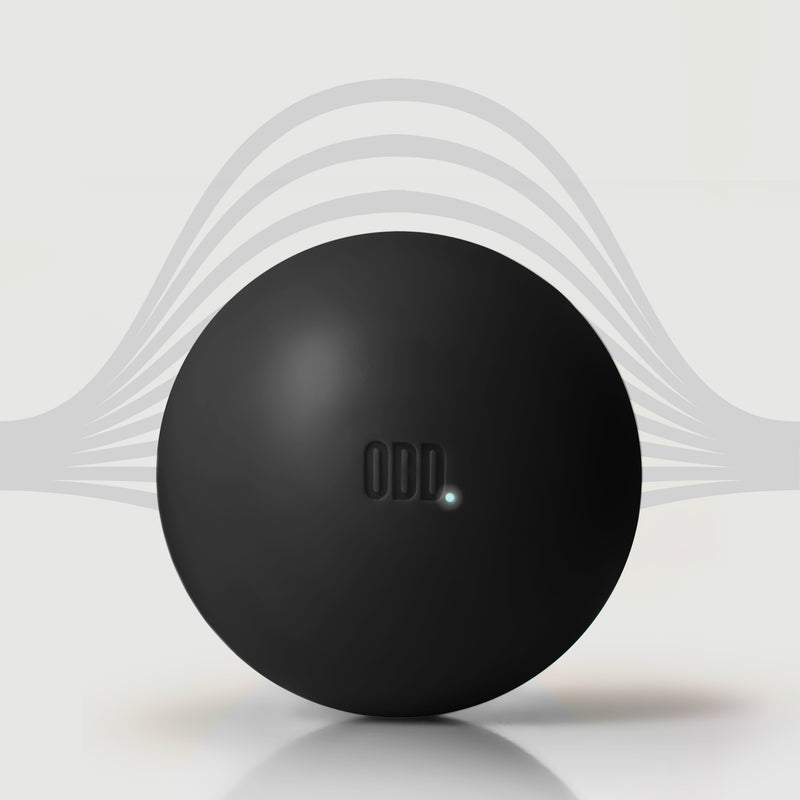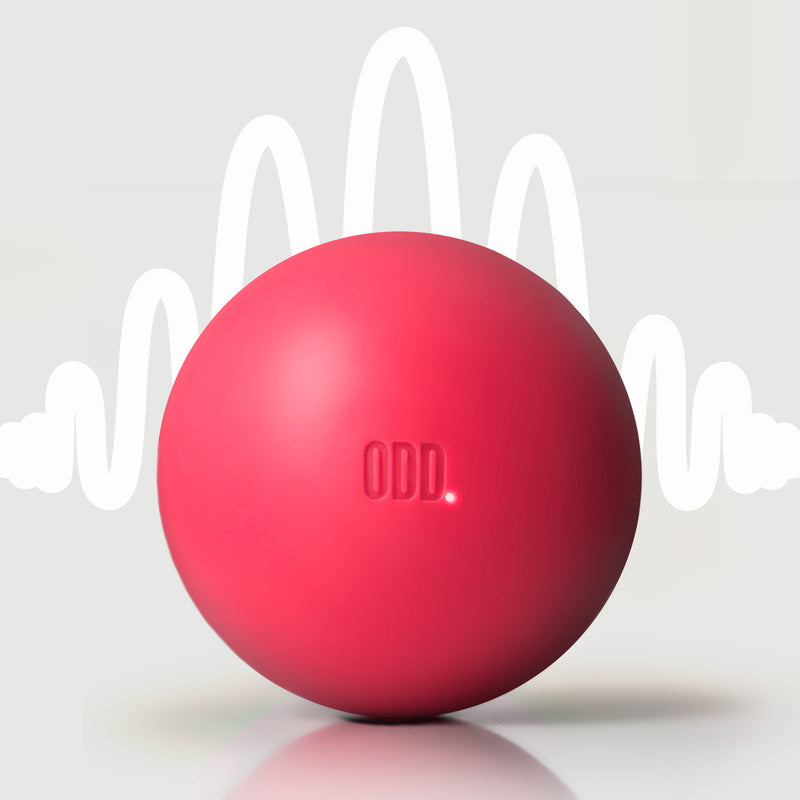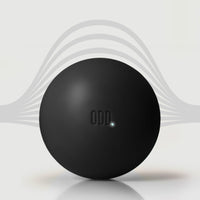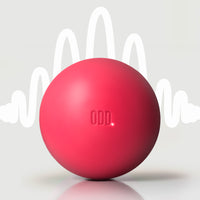 ODD Ball is a smart
Bluetooth device
that works in tandem with its App, free for
Android and iOS
.
Once connected, just bounce, catch, trow or spin the ball to play any of the
hundreds sounds included
.
The sound is played by the phone's internal speakers or any headphones, speaker connected to it.
ODD Ball is
packed with sensors
, it understands motion, spin, bounce intensity, speed and more.
Be expressive and play
drums, keys, synths and guitar
like the real thing.
Record multiple instruments together to
create your own tracks
, add
effects
and
share
.
You can also add or
record your own sounds
with your phone's microphone.
The App is compatible with any music streaming service like
Spotify
or
Apple Music
.
Play your favorite song, select a sound in the ODD App and
jam along
with your Ball.
Never run out of inspiration.
Download
new sounds and tracks to play with, created by more than
20000 users
in our community.
ODD Ball is
MIDI
, compatible with all of your favorite software.
Explore its
motion sensing
capabilities, tap it, roll it, spin it, shake it to trigger or manipulate sounds.
WHAT'S IN THE BOX
Cool metal case
+ ODD Ball + USB charging cable +
Free App Download
Stefanie Schranz

"
crazy cool. It's easy to grasp for beginners and for any experienced musician you can create insane beats. Love it and would definitely recommend. :)"
jmccorm1

"
What a brilliant invention for kids. I bought this for my Grandaughter and she loved it. Even better than the product was the customer service which I have to say was phenomenal."
Thomas Smagge

"
I absolutely love the ODD Ball! My kids and I have hours of fun bouncing it around and making music. And the fact that you can add your own sounds makes it a really versatile!"
Maynrd

"
I can't believe no one thought of this technology until these folks came along! The Oddball is a great addition to my music gear! Thanks, team, for all your hard work!"
Michale Banks

"
Build quality of the balls is really exceptional. Support is quick and helpful. Seems like the creators actually care!"
Divadlo Piki

"
The ODD ball is a great, crazy fun for people aged 5 to 95. Beware, it's addictive! We had one ball first, then 3 and we plan to buy another 3!"
Irishninja03

"
This isn't just a cool toy, it is a musician's tool. Everything works as promised. Couldn't be happier with this device."
Marshal Petry

"
This project is awesome! I installed the app and experienced some glitches. I contacted support and was attended to immediately and in a short time everything ran perfectly."
Mark Agnew

"
This is such a unique thing. It works really well and introduces a completely new way to create music. The fact that it can be used as a midi controller opens a door to many possibilities."
Larry Songs

"
Guys you have created something spectacular. I was sceptical but am really happy I bought it. Hope to see new sounds soon to enrich the app that is already fantastic."
DJ L1ON

"
Great customer service. Had trouble connecting my odd ball, I contacted customer service and they solved my issue. Over all great product, very fun and the app is super easy to use."
Walt Bladt

"
This is just awesome. The device as a midicontroller makes its usages unlimeted. The app on phone makes it super portable. How can something so simple be so good?"
Heli711

"
Super cool device to make a quick beat on the go, to improvise and to collect creative ideas. It always has a bit of magic for me when simple bounce of a ball becomes music!"
Antonio Moreno Alvarez

"
One of the most outstanding recent inventions. Killer Device+App, imo. Pasquale from ODD published a comprehensive 8 mini-chapters guide on YouTube covering all use aspects."
Jay Gilligan

"
The hardware and app are working together perfectly! The ball is very sensitive and the ability to load my own sounds is invaluable. I'm so happy I got these!"
Yaniv Granat

"
So much fun and they have the best support ever! Thank u very much for all the amazing team. Keep up joy and happiness 💚"
Chase the Penguin

"
I love my Oddball! It enables music making for all abilities and the children get such a thrill out interacting with the different sounds."
Francesco Serino

"
Fantastic product, like the APP! I highly recommend it. For me it represents a real multi musical instrument ... super innovative! ... and it is also an anti-stress!"
ODD Ball is a bluetooth device, it works as a wireless music controller and is sensitive to the intensity of the bounce. It connects to the ODD App where you can choose sounds from an expansive sound library, play over tracks and make beats with your friends. Everytime you bounce, catch, spin or juggle the ball, the app will play a sound through the phone's internal speaker or any headphones or speaker connected to the phone.
We offer a full money-back guarantee for all purchases made on our store. If you are not 100% satisfied with the product, you can return your order to us within 14 days from the delivery of the product and we will issue a full refund.

After the 14 days period, if you are having any issue with our products, you can use our 12-months warranty policy to get your product repaired or replaced.
We ship everywhere in the world, including Europe, United States, Canada, Australia, New Zealand, Japan, South Korea, Mexico, Brazil and many other countries! Shipping times vary between 5 days to 10 days depending on the destination. We ship your order next day by air and will be delivered to you by your local courier.

We always use the most reliable solution available and when we ship across countries we take care of the customs declaration, so you do not have to pay any customs fees.
ODD Ball is your instrument, the App your loud speaker. Every sound you play, record or stream is reproduced by the App and comes out of your phone or any speaker or headphones that are connected to it. This way you are able to connect the App to any sound system and make it very very loud.
The ball gets fully charged in about 1 hour. A full charge allows you to play for about 6 hours in a single full play session. But if your style is to play for many short sessions, a full charge can last up to 3 days.
The App allows you to choose sounds for your ball from an expansive sound library of different styles (HipHop, Rock, Grime, Acoustic, Disco, Arcade and Effects), allows you to play over your tracks and your favorite artists, you can jam along any song you play through Spotify or Apple Music, you can record and create your own tracks, record your own sounds with the mic-in feature and share your creations on socials or with your friends, so you can collaborate and create tracks together. For more info, check out our Tutorial Page.
Surely you can connect and play with more than one ball, as many as your device allows (usually more than 6 at least). You can assign a different instrument to each one of them, you can record tracks, play over a song - everything you are already able to do with one ball, but now you can come up with moves and tricks to show off your skills.
Yes. You can use the internal mic of your phone to record any sound you can think of and use it with the ball. You can also add your own samples to the App and create your own sound libraries for ODD Ball.
Yes. We are constantly working to improve and add features to ODD Ball. Everytime a new feature is available, the App will automatically update your ball and you will be able to enjoy the new features for free.
You can use any type of speaker or headphones with the app, but just be aware that bluetooth speakers or headphones are not specifically designed for live music playing, in fact they internally add a small delay on the sounds you play. But don't worry, to avoid this is issue you can simply use a phone to speaker cable to directly connect your phone to your speaker and get rid of the delay.
The App allows you to share your tracks as simple audio, so that you can share it on your social channels and let people listen to it, or as a project, so that you can send it to other ODD users to create and compose tracks together.
Yes. ODD Ball is a MIDI bluetooth device and is compatible with any DAW software. Just simply connect to the ball via MIDI and you will be able to use it for professional music production.
ODD Ball is made for bouncing. We have been through a long journey to test and optimize the reliability of the ball and have set a benchmark of 100.000 hard bounces. Although, we do not encourage throwing the ball off a building, jump full weight on it, run a car over it or slam it with a baseball bat, the ball is resilient to bounce.

ODD Ball is also splash resistant, that means that it can withstand water splashes, but cannot be submerged into water.